The Final Days of Former Math Home Harrelson Hall
Former classmates Adam Garrett and Josh Griffin might have the most coveted jobs in the history of NC State alumni: The two civil engineering and master's degree graduates work for the companies that are deconstructing Harrelson Hall.
"I don't know any students we were in school with who wouldn't be envious of what we are doing, taking this building down," said Griffin, a project manager for Kimley-Horn and Associates.
"There certainly wouldn't be any of them chained out front trying to save it," added Garrett, a division manager for D.H. Griffin Wrecking.
That is a consensus opinion of generations of NC State students who took classes in the iconic monstrosity that opened to much acclaim in the fall of 1961, the first circular building ever constructed on a college campus.
Griffin and Garrett took differential equations together and a few other classes in the longtime home of the mathematics department. They are now turning toward home on the removal project that was first approved by the Board of Trustees in 2002 and begun in earnest last summer after the University Bookstores returned to the Talley Student Union.
When students come back for the fall semester in August, the most-used, least-loved building in the UNC system will be gone, returned to the muddy terrain from which it famously sprung in the early 1960s.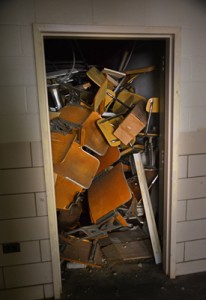 Garrett believes that the goal of reclaiming 90 percent of the salvageable material in the building will be met. Much has already been salvaged behind the green chain-link fence just off the Brickyard.
The industrial-strength furniture has been removed, given mostly to the Habitat for Humanity of Wake County to be sold in its ReStore outlets. The fluorescent lights were recycled. The doors and hinges were given to local fire and police departments, to be used for training drills. The whiteboards went to a local charter school. The ceiling tiles have been stacked on pallets, ready to be picked up by a local company and recycled into new drywall.
Liz Bowen, a program coordinator for the University Sustainability Office, has played matchmaker for local companies and organizations who might be able to use the recycled goods.
"We have found lots of places that could re-use pieces of Harrelson," Bowen said.
Before long, the pine trees planted in 1983 will come down. They were hastily installed as saplings just after the men's basketball team won the NCAA championship, an event that forever changed the landscape of central campus. Every unbolted stick of furniture was used for bonfire kindling following four successive weekends of winning and every shrub was trampled during postgame celebrations.
The vertical panels of Indiana limestone and black slate will be removed from the building's exterior. Some will find new homes in the landscape garden that will be built in Harrelson's footprint, stacked to resemble the books in the adjacent D.H. Hill Library. They will also be used as pavers around campus.
D.H. Griffin will bring in a four-story excavator in coming weeks. The demolition dinosaur will chomp all the concrete and cinder blocks from the building's outer ring, then mix it with similar material removed from Reynolds Coliseum last summer. It will all be finely crushed into coarse material that can be used as roadbed or fill material. The concentric inner ring will suffer the same fate.
Something will be lost, however, when Harrelson is finally returned to dust–the namesake of perhaps NC State College's most devoted alumnus, administrator and advocate.
Col. John Harrelson, a country boy from the cotton fields of Cleveland County, worked his way through the North Carolina School for Agriculture and Mechanic Arts ironing shirts of his fellow cadets and serving as the weekend night manager of the campus power plant. In the latter job, he earned 12 ½ cents an hour and his main responsibility was turning out the campus lights at 11 p.m.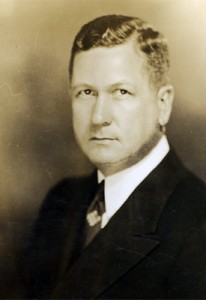 He earned both a bachelor's and master's degree in engineering from the college and became a professor of mathematics before taking a leave of absence to serve in the U.S. Army in the Great War.
After serving in Gov. O. Max Gardner's administration, "The Colonel" returned to NC State as the head of the mathematics department in 1933 and the following year became Dean of Administration. He took another leave of absence during World War II. Following his return, his title was changed to chancellor in 1945.
He was the first alumnus to hold the school's top position and was named the school's first chancellor in 1945. After retiring in 1953, he became the college's archivist.
On March 12, 1955, Harrelson suffered a stroke mid-sentence during his dedication speech for a new wing of the D.H. Hill Library and died shortly afterwards, years before funding or construction was begun on the classroom building that bore his name. His obituary described him simply as "an Episcopalian, a Democrat and a 32nd degree Mason."
He married the daughter of former Supreme Court Justice George W. Connor, but they had no children. The couple left their entire estate to NC State College—and endowment of more than $100,000—for the purchase of art for the student center and library and to fund an annual lecture series.
"He has given himself wholly to State College, as faculty member and as administrator for more years than he would care to remember," UNC Consolidated System President Gordon Gray once said of Harrelson. "He has had a love for the college, a devotion to its purposes, and an ambition for its future, which have been as constant as they were deep."
Last Friday, someone cut the power and all other utility services for good in the building that stood in his memory for more than a half century.
And soon it will be all gone.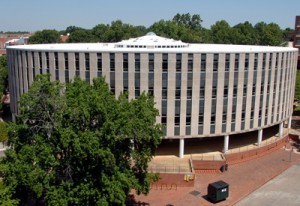 Harrelson Hall
Named for Col. John William Harrelson (1885-1955), a 1909 graduate who became NC State's fifth executive officer, first chancellor and first alumnus to lead the school. When he died, Harrelson left his entire estate of more than $100,000 to the school.
Designed by Raleigh architecture firm Holloway, Reeves and Associates, with assistance from NC State architect and director of facilities Edward W. "Terry" Waugh.
The first cylindrical building ever built on a college campus.
Funded by a $34 million 1959 educational bond that allocated $4.9 million for NC State College improvements, including $1 million earmarked for a general purpose educational building in the center of campus.
The final cost of the building when it opened in November 1962 was $2.25 million. Deconstruction cost in 2016 will be $3,508,000.
NC State's first air-conditioned building. Immediately after it opened, enrollment in the school's two sessions of summer school doubled because of climate-controlled classrooms.
However, heating and cooling systems only re-circulated ambient air on each of the three floors, causing students and faculty to complain of stale air, hot classrooms in the winter and cold classrooms in the summer. In 1978, a $533,000 renovation fixed the constantly recurring fresh-air issues. Loud screeching circulation fans kept students alert at all times.
With 109,000 square feet of academic space, it could house as many as 4,500 students in its 88 windowless classrooms, which was two-thirds of NC State's student population when it opened in 1962.
Housed 167 faculty and staff in 112 offices.
Faculty offices are on the outer rim; lecture halls are in the inner core.
Until the University Plaza (a.k.a. the Brickyard) opened in 1968, Harrelson was surrounded by muddy fields.
For decades, it was the most used building in the UNC system.
Geometrically speaking, the building's diameter is 206 feet.
It is not now, nor has it ever been, sinking.
When it opened, it was home of social studies, economics, mathematics, history and political science, philosophy and religion, sociology and anthropology and modern languages. Mathematics remained housed in Harrelson throughout its lifespan.
No classes in the College of Design were ever taught in Harrelson, an architecturally brilliant design with a flawed execution.
After two feasibility reports concluded the building could not be successfully renovated and updated, the NC State Board of Trustees decided in 2003 that the building would eventually be removed. That process finally began in 2015 after the University Bookstores returned to the Talley Student Union following a two-year renovation project
This post was originally published in NC State News.