Faculty and Staff
Biologist Bobay, Biophysicist Lin to Join NC State's Bioinformatics Faculty Cluster
Biologist Louis-Marie Bobay and biophysicist Xingcheng Lin will join NC State in August 2023 as members of the Chancellor's Faculty Excellence Program's Bioinformatics cluster and as assistant professors in the College of Sciences.
Bobay, who will be part of the Department of Biological Sciences, is an assistant professor at UNC Greensboro, focusing on the evolution of microbial genomes and populations. He applies and develops computational approaches to elucidate the forces that shape the architecture and gene repertoire of microbial genomes. His lab is particularly interested in understanding the impact of population dynamics on microbial evolution. Bobay received his Ph.D. in biology from the Pasteur Institute in France and his bachelor's degree equivalent in fundamental biology from Ecole Normale Supérieure of Lyon, France.
Bobay's work in the Bioinformatics cluster will continue his research on microbial populations. He has described evidence that gene flow across bacterial lineages may be common, even for lineages that are divergent enough that they would be considered separate species, and is likely a pervasive force in describing bacterial evolution. Other work has introduced fast software to simulate microbiome data, and to find the set of key genes charred by a population of organisms. Bobay is expected to collaborate closely with the rich community of evolutionary biologists and statistical geneticists in the cluster and across NC State.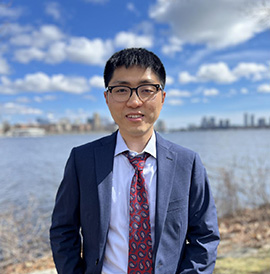 Lin, who will be part of the Department of Physics, is a postdoctoral associate at MIT and has a rich interdisciplinary background in biophysics and chemistry. His research aims to understand the secrets of life using various theoretical and computational tools. His recent work focuses on chromatin organization under different environmental conditions; epigenetic regulation of chromatin structure by Polycomb group proteins; and the function of epidermal growth factor receptor, a prototypical transmembrane receptor tyrosine kinase. Lin received his Ph.D. in biological physics from Rice University and his bachelor's degree in physics from Xiamen University in China.
Within the cluster, Lin will bring state-of-the-art computational tools to model the structure of chromatin, the material that makes up the chromosomes in cells and plays an essential role in gene regulation. A better understanding of chromatin has the potential to help the genetic mapping efforts of other Bioinformatics cluster members by drawing a connection between genetic association with disease and local chromosome structures. In addition, Lin's research has the potential to uncover mechanisms for protection from DNA damage when individuals are exposed to environmental chemicals, thus strengthening the cluster's excellence in environmental genomics. Lin's work also provides a strong modeling connection to experimental work underway in the biophysics program at NC State.
"Bioinformatics is a field at the interface between statistics and biology," said Rob Dunn, senior vice provost for University Interdisciplinary Programs. "As we look to the future, it is and will continue to become a rich frontier of science. It is wonderful to be able to expand the Bioinformatics cluster and we are lucky to be able to hire two scholars as talented as Dr. Lin and Dr. Bobay. Through them we will be able to better employ a common set of tools that transcend historic disciplines, tools that allow us to see the big stories of the evolution of life but also to apply our understanding of those stories."
"We are thrilled to welcome these talented and interdisciplinary-focused faculty members to campus," said John Blondin, interim dean of the College of Sciences. "Louis-Marie Bobay and Xingcheng Lin will further enhance our cutting-edge work at the intersection of the biological, physical and mathematical sciences."
The Bioinformatics cluster strengthens NC State's leadership in developing the theoretical frameworks and methods needed to make sense of complex and diverse data generated by the biological, agricultural and medical sciences, and to use those insights to tackle the world's pressing needs. The cluster has faculty from several departments in the College of Sciences.
The cluster is part of NC State's Chancellor's Faculty Excellence Program, a cluster hiring initiative launched in 2011 that brings together the brightest minds in a range of academic disciplines and gives them the support to tackle global issues. NC State has hired dozens of new faculty in 20 select fields as part of the program, enhancing the breadth and depth of the university's solution-driven research and innovation. The clusters build on the NC State's historic strengths in the sciences, engineering, math, design, textiles, humanities and social sciences, and education.
This post was originally published in Provost's Office News.