Alumni & Friends
3 NC State Alumni Elected to National Academy of Engineering
Jim Goodnight, Greg Washington and Benny Freeman share a passion for education and a bold commitment to innovation. As NC State alumni, they also share a vision for inspiring the next generation through leadership and service.
Now the three share an even rarer distinction. On Feb. 7, they were all elected by their peers to membership in the National Academy of Engineering, a scientific body advancing technology and engineering in service to the nation.
Membership is among the highest honors accorded an engineer. The body has just 2,420 U.S. members and a scant 319 international members. The new class of 124 members will be inducted at a ceremony Oct. 1 during the academy's annual meeting in Washington, D.C.
Jim Goodnight: Innovation for Good
Goodnight is one of NC State's most accomplished graduates. During his sophomore year on campus in the mid-1960s, the applied mathematics major took the only computing course available at the time — offered by the statistics department. That experience sparked an interest in the emerging field of computer software that eventually led Goodnight to co-found SAS, an industry leader in analytics software based in Cary, North Carolina.
After completing his math degree, Goodnight earned both a master's and doctorate in statistics at NC State and served on faculty in the Department of Statistics from 1972 to 1976. His wife, Ann, is a 1968 graduate of NC State's College of Humanities and Social Sciences.
In a 2015 alumni spotlight, Goodnight recalled that he and three other students developed and initially ran SAS as a business inside the university.
"The [statistics] department wanted us to stay close by so that we could still help them with their consulting questions. So we moved right across the street from Nelson Hall," he said. "We moved because we had run out of space and couldn't grow. We had our first user group meeting in Florida in 1976, and the enthusiasm of our users was a big encouragement for us to go ahead and strike out on our own."
The venture paid off, thanks in large part to Goodnight's ability to attract and retain top talent — including many NC State graduates — with industry-leading benefits and a focus on a creating a healthy workplace environment. In 2021, SAS reported revenue of $3.2 billion, a year-over-year increase of 5.2% despite the unprecedented economic challenges posed by the COVID-19 pandemic.
"As we always have, we remain committed to using data, analytics and AI for good, driving progress for our environment and society at large," Goodnight said in the company's annual report.
Goodnight's commitment to innovation for good is evident through his longstanding support for NC State. SAS Hall, home to the university's mathematics and statistics programs since 2009, is a brick-and-mortar testament to the impact of that support. But it's his investment in people that may be his most enduring legacy.
Jim and Ann Goodnight support more than 250 North Carolina students each year through the Goodnight Scholarships, offered to both first-year and transfer students studying the STEM disciplines — science, technology, engineering and math. In addition to covering tuition, fees and other expenses for up to four years, the scholarship offers a number of programs promoting professional and personal growth.
The Goodnights have also donated to numerous centers, programs and scholarship opportunities across campus and have endowed 28 named faculty positions, a deanship and a program to invest in early-career faculty. Last year, they created the Goodnight Doctoral Fellows for Ph.D. candidates in STEM and education.
Greg Washington: Change Agent
Washington, a three-time NC State graduate, is at the forefront of a new wave in academia — engineers who are presidents, provosts or deans at universities and colleges across the country.
In 2020 he was named president of George Mason University in Fairfax, Virginia. It's a unique position for a scholar like Washington: Only 14% of presidents at doctorate-granting universities possess an engineering degree, according to the American Council on Education; fewer than 8% are African American, according to Inside Higher Education.
"We live in a time when technology is changing at an astounding pace, when external resource development is critical to the campus's survival, when issues like [information technology] and commercialization are a big part of that and when developing strong partnerships with industry is essential," Washington says. "All of these are drivers that call for engineers to be academic leaders.
"This is where universities, especially those with large think programs, are putting their resources and positions."
Washington studied mechanical engineering at NC State, earning a Bachelor of Science in 1989, a master's degree in 1991 and a Ph.D. in 1994. His academic career includes research on lightweight antennae, self-driving vehicles and smart materials. His wife, Nicole, is a 1994 graduate of NC State's College of Education.
As an undergraduate, Washington and fellow students unhappy with the coverage of African American issues started the Nubian Message. NC State's weekly African American publication recently celebrated the 25th anniversary of its first edition.
The discussions on racial equity Washington helped launch as a student more than three decades ago — when NC State first opened the Augustus Witherspoon Student Union that contains the African American Cultural Center, the Nubian Message and other student organizations — are still ongoing.
After earning his Ph.D., Washington interviewed with several private companies before deciding to accept a position as an assistant professor of mechanical engineering at Ohio State in Columbus. After nearly a decade on the Ohio State faculty, during which he led the Institute for Sustainable Energy and the Environment, Washington had some thoughts on how to improve the Buckeye State's biggest engineering program. He shared them with his dean. Two weeks later, he was named the associate dean of research, paving his way into the upper levels of administration, including a stint as Ohio State's interim dean of the College of Engineering.
In 2011, he was named the dean of the Henry Samueli School of Engineering at the University of California, Irvine, becoming the first African American engineering dean in the UC system. When George Mason began looking for a new president in late 2019, Washington's background and experience as an academic leader was exactly what the school was looking for.
Greg and Nicole Washington have enthusiastically supported NC State's colleges of sciences, education and engineering over the years. In 2022 they endowed the Washington Scholarship to provide merit- and need-based scholarships for students pursuing an undergraduate degree in the College of Education or the College of Engineering, with preference for students who have a commitment to working with the Black community.
Benny Freeman: Tackling Grand Challenges
In true Think and Do fashion, Benny Freeman has dedicated a significant portion of his career to solution-oriented research with real-world impact. Case in point: access to clean water.
"The continued shortage of reliable access to clean water in many parts of the world is one of the biggest challenges facing humankind," Freeman says. "Approximately 850 million people worldwide live without access to clean water, and 60% of the world's population lives in water-stressed areas."
To address this urgent problem, Freeman serves as director of the Center for Materials for Water and Energy Systems (M-WET) at the Cockrell School of Engineering at the University of Texas at Austin. M-WET is a U.S. Department of Energy research center focused on membrane-based approaches to purifying water.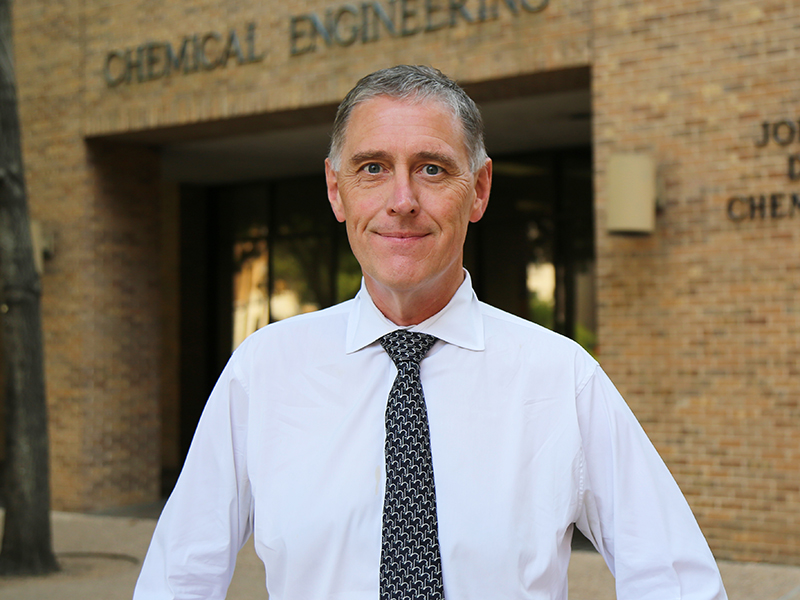 Freeman, a native of Hendersonville, North Carolina, received his B.S. in chemical engineering from NC State in 1983. He went on to earn a Ph.D. in chemical engineering from the University of California, Berkeley in 1988. After spending a year as a NATO postdoctoral fellow at the Ecole Supérieure de Physique et de Chimie Industrielles de la Ville de Paris in Paris, France, Freeman returned to NC State in 1989 to teach chemical engineering in the College of Engineering.
While at NC State, Freeman won the College Outstanding Teacher Award in 1997. Then in 2001 he pulled up stakes and moved to the University of Texas at Austin. In 2013 he received the Society of Plastics Engineers' International Award — the top honor bestowed by that organization. Today Freeman serves as the William J. (Bill) Murray Jr. Endowed Chair in Engineering in the McKetta Department of Chemical Engineering at UT Austin.
Despite building a storied career that led him off campus, Freeman hasn't forgotten his roots; he's been a generous supporter of the Department of Chemical and Biomolecular Engineering and the Gregg Museum of Art & Design.
Outstanding Contributions
The National Academy of Engineering is part of the National Academies of Sciences, Engineering, and Medicine. It honors those who have made outstanding contributions to "engineering research, practice, or education" and to "the pioneering of new and developing fields of technology, making major advancements in traditional fields of engineering, or developing/implementing innovative approaches to engineering education."
(Editor's note: This post has been updated to reflect Benny Freeman's election to the National Academy of Engineering.)
This post was originally published in NC State News.